Logan's Doggie Bed & Breakfast
We have lots of space to play here. Guest can hang out in the front picket fence play area, lounge in the covered porch couches, or enjoy the huge back 50 x 100 ft. fenced grass play yard. Back there we have a seasonal puppy play pool, play houses to run around,  a sun umbrella to lie in the shade and lots of toys!
Our Doggie Bedrooms are 7′ x 12′ or 4′ x 12′ – plenty of space to bring your doggie's favorite toys, blankie, beds, etc. You make the room perfect by adding your personal touches!
Welcome!
~ Susan Conger

Hours by appointment only
M-F: 8am to 11:30am & 3:30pm to 7:30pm
Sat – Sun: 8am to 10:30am & 4:30 to 7:30pm
Tours: please feel free to call for your private tour, and bring your dog along!
By appointment only Monday thru Thursday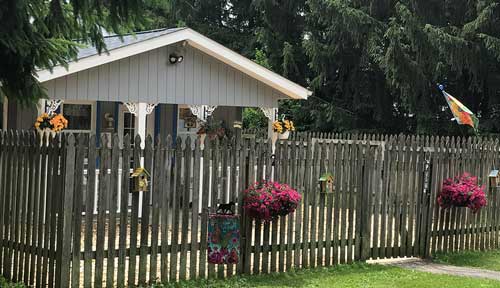 Policies
$75/$100 non-refundable deposit holiday stays.
No arrivals or departures on holidays.
Rates based on day you check in , not the time.
Check out time is 11am , any time after is considered another day.
3 day paid stay minimum on all weekends.
Proof of vaccines – DHLPP , Rabies current Bordetella & Fecal with in 1 year.
No refunds for early departures.
Holiday minimum stay required , please inquire.


Please note:

Easter, and Christmas Holidays there is a 7-10 day stay minimum, package plus $5.00/day, per room Holiday Charge.
Thanksgiving Holiday is a 5 day minimum, plus a $5.00/day, per room Holiday Charge.
Owners responsible for damages caused by your pet to theme rooms and décor.
Cash only on day of arrival or check accepted 10 days in advance for boarding only.
Additives: $0.75 per dose, including but not limited to medications, supplements, vitamins and liquids.